Sudan
Area
2,505,813 sq km
Population
19,416 thousand
Capital
Khartoum
Languages
Arabic
Religion
Sunni Muslim 70%, Traditional animist 25%, Christian 5%
Currency
Sudanese pound

Crossing the Border
The distance between the Ethiopian and Sudanese side of the border crossing at Gallabat is around 40 metres, but there is a marked difference between the two countries. The Sudanese are very relaxed. The formalities on departure from Ethiopia were relatively straightforward. Some 40km before the border is an unmarked customs post, where you have to surrender the customs document with all the details of the carnet (the Ethiopians do not stamp the carnet; instead they provide you with a 5 page document detailing the information). At the border, immigration is in a small mud hut, and an exit stamp is readily provided, and there is another customs post where we were asked if we had anything to declare.
At the Sudanese customs post, our carnet was stamped, and we had to declare our laptop, at a total cost of $1. Immigration was a further 100m into the country, and here the immigration official explained that our visa (costing $61) was not a full visa, but only permission to travel, and we had to pay a further 4,000 dinar ($16) each to register. Since we did not have any currency (local Dinar was required), we went back to the customs post to see if we could find someone to change dollars. Interestingly, we had not encountered any money changers in Sudan - whereas we had been hustled by these at every other border.
After some haggling in the market we met the local Gadaref Minister for Education, who was extremely helpful, and someone was summoned to change money. The smallest note he would accept was a $50 note, but he gave us a good rate. Once immigration was complete, we set off to Gadaref on a good gravel road, though there was the occasional donga (dry river bed) crossing the road. Our first impression of Sudan was the heat (our water consumption increased massively) and landscape - it was very flat compared with Ethiopia.
Gadaref
Gadaref is a small confusing town. We thought we had to register here with the police, to acquire a travel permit for onward travel. Without GPS co-ordinates we would never have found the police station (N14 02 006 E 035 23 049). Once found, we discovered it was actually an immigration centre, and there was apparently no need to register anyway. The station contained a large compound, and after an hour of negotiation, we persuaded them to let us camp within the compound overnight.
The following morning, leaving Gadaref, we heard a horrendous squealing sound coming from one of the front wheels. Fearing the worst, Adrian removed the front wheel. Interestingly, an old boy kept the children from pestering us. Once the wheel was off, a couple of men from the garage wandered over and they helped move the offending stone, which was in between the brake disc and guard. We were soon on our way.
On exiting Gadaref, we turned west on to the main Port Sudan/Khartoum highway, where we were stopped at a toll booth. We were charged 600 dinar, and given a receipt. This was the only time we were expected to pay - at all the other toll points we were waved through. It is 411 km to Khartoum, yet it took us about 6 hours. The road is very busy, though it is tarred. There are some extremely deep potholes which it is very difficult to spot until you are committed. The road is full of large trucks and coaches of all manner of roadworthiness and capability (indeed some of the worst offenders are the brand new super coaches that appear from behind and overtake at speeds above 160KPH, regardless of what is coming!).
Khartoum
Orientation around Khartoum is initially confusing. The best map we found was in "Africa on a Shoestring" from the Lonely Planet. From our experience we had found that the airport was usually a good source of information and changing money. In this instance, there was no tourist information, no maps or city plans of any kind, and no foreign exchange except one inside the terminal (which was closed). So we were charged 100 dinar for parking in order to obtain no information whatsoever. It was also Friday, which is their holy day. This meant that the roads were not busy, and we were able to drive around a virtually deserted city, which was useful and very pleasant.
From the airport, we headed to the Hilton Hotel, another usually reliable information source. They too could not change money as they had just cashed up and had no maps or information. We went to another hotel, the Holiday Villa, and were able to change money at last. Opposite this hotel was the Blue Nile Sailing Club (which still retains General Kitchener's sailing barge as an office) and other websites suggested that camping here and at the German/Sudanese Club were good options. The sailing club charges $11 to camp, yet the facilities were in an appalling state. The toilets were a health hazard, there was no hot water, and you have to camp in the dusty car park. The German/Sudanese Club no longer permits camping, but you can have an aircon room at $66!!
National Camping Ground
There was a campsite on the edge of town (the National Camping Ground, approximately 10km south of Khartoum centre - GPS N 15 31 476 E 032 34 177) which had basic facilities, but appeared clean and safe and only charged $1 per person. Finding shade was not easy, and the site was the temporary home for Ethiopian refugees waiting for permission for onward travel plus various Sudanese athletes, who used the camp for training. They allowed us to park under the trees on their grassy beds, which was essential for shade. This was a source of merriment for the spectators - an inevitable part of camping at this site. They seemed intrigued by our roof tent.
Not that intrigued, for a week later, whilst using our Oztent, one of the young boys, Mohammed, threw a stone at the tent. Adrian was furious and gave him a talking to, and then marched off in the direction of the office, to complain. Actually there was no one there, so he could not, but the next morning, a Sudanese man came over and mentioned the incident. He called Mohammed over and gave him a talking to in front of us. An alternative campsite mentioned in some websites is no longer active, sadly due to the death of the owner.
Will and Justin
On our first night at the National Camping Ground, quite late, a Land Rover drew up, containing Will and Justin, two lads driving from London to Cape Town in aid of charity - a clinic in Tanzania which was being run by a friend of theirs (See Links Page) for their website. They had driven south from Egypt and having blown a shock en-route were intending to have a look at their half-shafts the following day. They had met a German at Wadi Halfa, who informed them that the 'mine of information' for onward travel north into Egypt (Midhat - a Sudanese guy, mentioned on several web sites as being very helpful to travellers) was now in Khartoum. We spent a couple of days with the lads, before they headed on south to Ethiopia.
Midhat
The next day Justin, Adrian and Catherine went to meet Midhat. He took us to get our travel passes and photo permits. Then, leaving Justin at the British Council to read newspapers, we went to the Libyan Embassy to enquire about a visa. We were told we needed a letter from the British Embassy, so went there only to find it closed - we were told to come back early Sunday morning.
We were to have contact with Midhat over the next few weeks, indeed we enjoyed a couple of meals out with him on various occasions. It is true he is a mine of information and has been invaluable in sorting out visas, local suppliers for spare parts for Daph, entrance fees and GPS coords for up-country visits. He is a really helpful chap and wants to see travellers succeed in their endeavours and enjoy the hospitality of Sudan - and for our part, we cannot thank you enough Midhat.
Midhat can be contacted on +249 (0)12253484 or email: globtours_sudan@yahoo.com
Onward Travel
Khartoum has become a cross roads for us. Our original intent was to get into Egypt and despite a number of entry options, none of these obviate the requirement to temporarily import Daph into Egypt. Our Carnet excludes entry into Egypt, thus we would have to pay 3 times its value to temporarily import Daph, which we would get back in Egyptian pounds on leaving the country (when the money cannot be realised). In addition there are numerous administrative hassles and charges (eg $300 diesel tax!), which we would rather avoid (although hanging around Khartoum is changing our minds on this?).
Our second option has been to try to enter Libya, involving a desert crossing of 1300km from Dongola to Al Aweinwat. The route is now surveyed and coaches of Sudanese travellers use this route, although it remains a risky piece of desert to cross. The difficulty is obtaining Libyan visas. We submitted a letter from the UK Embassy ($61) with our Libyan visa application, and it will be 2 weeks before an answer is obtained (hence our wait in Khartoum!). We were unable to get past the door guard at the Libyan Embassy (even with Midhat's diplomacy and translation), thus are not too sure what is occurring. We also tried to get a letter of introduction from a couple of tourist companies in Tripoli that we contacted by email and phone. Both were unable to secure our entry requirements, one claiming that applications can only come from your country of residence, and the other that groups of 5 or more were required to secure a visa! We shall see.
(Afternote:Having waited a total of 3 weeks in Khartoum, waiting for a green light from Tripoli, sadly one was not forthcoming. In hindsight, we were being optimistic, for Libyan visas are not easily obtained. After 2 weeks, we should have given up, for these was no response from the Capital, indicating a refusal. Having attempted to solicit an explanation from the embassy staff, we found them either rude, inhospitable and devisive. This is a great shame, for those western travellers who enter from the north (Egypt or Tunisia) report the country to be exciting and fresh. But our hopes were falsely raised as we were leaving, for Adrian got talking to one staff member (the political officer) who appeared to be sympathetic to our plight. It appears he tried speaking to the Ambassador and Tripoli, but a week later we were no better off. We now had a few days on our Sudanese visa in which to cross to Chad).
Crossing Sudan, into Chad, northern Niger and taking the Hoggar route north through Algeria into Tunisia is a real attraction, but we would prefer a second vehicle to travel with for security. The route is manageable, despite reports of further conflict currently in southern Sudan. Equally the risk of robbery in N Niger and S Algeria remains a risk.
Crossing from Port Sudan into Saudi, via Jeddah, on a 3 day transit visa is possible provided onward visas are held. Jordanian visas can be purchased on the border, but we understand Syrian visas can be hard to get. We believe both can be obtained in Khartoum. This route is far longer, having to drive around Turkey and them through E Europe or take another ferry to Italy from Greece. Equally regionally it could destabilise if Bush had his way, although Will and Justin travelled down this route and enjoyed the sites to themselves and most tourists have stayed away. Finally we could travel by ferry to Europe from Port Sudan, but that rather defeats the object of travelling 'through Africa'. At the time of writing, we heard that there fighting has broken out between Eritrea and Sudan that has made travel difficult on the road between the capital and Port Sudan, near Kassala, though we have heard that the road is open, and buses are running.
Papa John's
Back at the campsite, Will had a problem with their rear half shaft, as a result of their broken shock. Then Adrian started working on Daph's rear wheel hub. The net result was that Will had a half shaft stuck in his axle and Adrian had repaired his leak, but had sheared a bolt within the hub! As time was getting on, we decided to sort it all out the following day at a local garage, using a local garage recommended to Will in Wadi Halfa.
Papa John's is a general engineering works 12 km south of Khartoum, supporting the fledgling petroleum industry and conducting water bore hole construction. So long as the spare parts are provided, Papa John will repair vehicles with his staff. Will and Adrian were invited to join the workers in their 10.00am breakfast of curried bread, an experience in itself. Once back on the road, they drove to the British Council to find Justin and Catherine. From there we all went to the Land Rover parts garage, (GPS in N Khartoum is N 15 36 412 E 032 31 879) where they tried to sell Will a very small pot of sealant for $100! - the attempt failed as Will decided he would rather go without. We had arranged to meet Midhat that evening for a meal, and we sat in the open air next to the Blue Nile.
Papa John is of Dutch extraction, and after a full life in the engineering industry (where he was responsible for massive earth moving for land reclamation - creating the polders), he set off to build roads through Dutch Guyana. The prospect of retiring was abhorrent, so 18 years ago he helped organise the distribution of aid to Africa and Sudan in particular. He now runs his own company (EF Mabu) in Khartoum, where he lives with his extended family and enjoys his lifestyle. In future Papa John may open a campsite to the rear of his property, towards the Nile. We have not seen the site, but campers would be assured of clean water, clean toilet and shower facilities and shade.
Adrian went to Papa John's early the next morning, and was there most of the day as he had to get a new oil seal for the main diff. He finally returned around 4pm, having met a Dutch guy (Bill) there who was interested in having an awning made like the one we have on Daph. Bill kindly gave us an open invitation to visit his house.
We were to return to Papa John's following our Meroe visit for some preventative medicine for Daph - to replace the clutch (see below). The 2 day job (as we had to get the parts) ended up with us camping at Papa John's, whilst the correct parts were sourced and fitted! Its just as well we have the time (waiting for our Libyan visa). The problem was the original Borg and Beck parts from Land Rover were different to those that were removed, which generated a very annoying rattle emanating from the release bearing. The mechanics were very patient and resourceful and Adrian had to keep a watchful eye, but Papa John wanted us to be on our way correctly and not to breakdown, lost in the desert - something we hold dear as well! One evening the lad worked late and had an evening meal prepared for them - called sem sem (similar to seasame seed). It is a seed, which is ground into a paste - it is actually very sweet (like most of the Sudanese diet) and eaten with bread. Adrian was invited to join them, and they insisted that Catherine joined them too, which was very touching. They also produced a camera to record the occasion.
After 9 days Daph was back on the road! Original Land Rover parts were sourced (when is a part an original part - top tip - when it comes from the dealer in a white box with green Land Rover ovals, with original part stamped on the box!). We cannot complain, Papa John has allowed us his facilities throughout. He can be contacted on +249 (0)12347406 or email:gmwpj@yahoo.com
Sudanese Athletics Grand Prix
Whilst at the National Camping ground, Jahid (a Sudanese guy who now lives and coaches athletics in Sheffield, UK), invited us to an Athletics meeting. We were entertained on the front row with all the VIPs, we were given cold drinks and snacks, and Will, who was sitting next to the Secretary of Sudanese Athletics (and was a colonel in their police force), gave us all the inside information as to which athletes were the favourites for each race.
The standard was quite high from the top athletes, although we noted a distinct difference between the competitors. Three of the women in the 100 metres race were running in their veils and baggy trousers etc, and not surprisingly they were way behind the winners, in their lycra shorts. We were told that Sudan was a country which allowed the women to participate, in contrast to say Saudi Arabia, where this would have been forbidden.
Attending the meeting was Paul Ereng ( Kenya's Olympic Gold medallist 800m runner-now coaching some of the runners at his home in Eldoret) and an administrator from the UK Athletics Board (William) who assisted with the medal presentations. William informed us that Britain and Sudan were forging links regarding athletics, and allowing return visits etc. After the athletics finished, we went to meet Midhat, who took us to a restaurant serving the traditional meal of beans with onions and bread, which was very tasty. We all took turns to eat with our right hands from the same large bowl.
A few days later, whilst waiting for our clutch repairs (see below) we bumped into Jahid and William in the Meridian and Jahid invited us for dinner at a friend's house. At the house, we removed our shoes and everyone sat round in the front room on sofas, whilst drinking fruit juices and eating fruit and cake. Our host's wife came out to shake everyone's hand, and then disappeared back inside the main house. As at the athletics, Catherine seemed to be the only female again.
The next morning Justin and Will went to the Meridian with our LAN card to update their website. We went to see Midhat. Whilst Adrian was outside, an extremely battered car crashed into the back of Daph. There was no visible damage to Daph, though the front light of the other car was impaled on our exhaust. The driver just walked off. Midhat came out, found the driver and brought him into his office for a talking to, at the end of which the man apologised. Then Midhat gave us traditional Sudanese coffee - a small cup full of sugar with some ginger and a pot of coffee to be poured from a height on to the sugar. Each small pot gave three small cups. The ginger gave the coffee a real tang.
Meroe
That afternoon we set off with Will and Justin to Meroe, some preserved Nubian pyramids and remains 300km north of Khartoum. It was a 3 hour drive. We had some trouble with one checkpoint, where they wanted to keep the originals of our travel permits as we did not have photocopies, but eventually we found a way round this. Once at Meroe, we met Mustapha, the caretaker and spent some time wandering around the pyramids and taking pictures, capturing the sunset - it was obvious no one had visited that day for the sand was pristine. Returning to the Land Rovers we found an entire village had spread out their market wares round the vehicles to attract us, although they soon moved when we started the engines.
We skirted round the enclosure to a camping spot recommended by Midhat on the other side of the Enclosure - it was in the half light that Daph got stuck in some soft sand. Although both vehicles were stuck at one point, in the event Daph had to be towed out by Will and Justin, as the clutch kept slipping, leaving a bad burning smell. This was very frustrating, for the clutch plate was replaced at CMC in Nairobi! There was no torque at the wheels, but the engine was still ticking over, meaning the only drive was within the clutch! This was realised swiftly and excessive revving only digs a bogged vehicle in more in sand.
Once freed, Daph was able to drive, so we found our camping spot and Justin offered to cook spaghetti bolognaise. It was much cooler than at the campsite, and we all slept properly - there was a constant cooling wind. In the morning the boys left to go back through Khartoum to Gadaref and the border with Ethiopia, and we left for a leisurely drive to Khartoum, to get the clutch sorted, in preference to a desert crossing to Dongola and more temples.
On the way back we visited the Royal City at Masawat. Our tour including the sauna and the royal baths, which were quite well preserved (although the thought of a sauna in the heat was dire!). We reached Khartoum and Papa John's at 3pm, but were disappointed to find that there was a public holiday the following day (Thursday) so that nothing would happen until Saturday. Papa John said that we could camp at his garage if the clutch took more than a day, which was likely. That evening, we went to Bill's house, and showed his wife and daughter the awning on Daph. We were treated to drinks and snacks in their beautiful air conditioned apartment.
Travels to Chad
Whilst at Papa John's, we received route advice from an aid agency, which travels the route and works on the Sudanese western border. In preference to the more direct route, the advice was to travel via Nyala, as this was safer, presenting less risk from bandits! It would take 4 days to the border and suggested stops were El Obeid, Gubeish, Nyala and El Geneina. The tarred road from Khartoum to El Obeid was of reasonable quality and routefinding was easy, but 100km beyond El Obeid, the tar ended abruptly. On our second day, from El Obeid, we completed 242km to reach En Nahud. The first 100km took just over an hour, but the second stretch was a rough sandy track, the centre of which was too high and Daph's clearance was insufficient.
This forced us to find alternative routes for two reasons - the first that the main track was so churned up by trucks it was impossible for us to drive along, and the second was that the side routes were so divergent that we frequently became disorientated. On two occasions, we had become so divergent we were literally driving on a GPS heading through crops and fields to regain the main track. This was both frustrating and time consuming, but we were thankful we had replaced the seed net, which saved the radiator from becoming clogged. At En Nahud we received advice about the light vehicle track beside the main track, but this frequently was a goat track and finding the light vehicle track out of a village was difficult. However, all the villagers we asked were very helpful and gave us directions despite the language barrier.
We spent our third night at Ed Da'ein, and were advised that the quick route to Nyala was parallel to the railway track and should only take three or three and a half hours (as oppose to six hours on the main road). Keen to stay on the correct route, we were forced twice to drive through open grassland (which is difficult as you cannot see potential holes or obstacles). Then we attempted to drive on the actual track, which was uncomfortable due to the large holes on the side of the track. It was possible to drive beside the track, although this was impassable in certain areas due to marshy ground. It was in one of these areas where we slid down the slope of the embankment into thick mud. Attempts to extricate ourselves at first using the engine were in vain, so we resorted to using the winch firstly to pull us forward, but eventually to pull ourselves out rearwards. We used the railway line as an anchor point, since this was the only viable solution. Fortunately the line was not busy, though we did see a train later on. A couple of Sudanese boys appeared while we were winching, and we were very grateful for their help. We finally reached Nyala at 2.00pm, thus it might have been quicker for us via the main road(!).
At Nyala, we were held up by immigration, so in order to inform our onward contacts of the delay, we attempted to make a phone call. As the mobile was not working, we used the satellite phone in an open area, away from crowds. It appeared that this was the wrong thing to do, for a large, confident looking local man strode over to us and admired the phone. We had no signal, so Adrian put the phone in the vehicle, but the man was persistent. Concerned for our security, we both got into the car, as a crowd seemed to be gathering. Just then, the man pulled out a pistol and started shouting. We were concerned that robbery had become armed robbery, but we saw a man in uniform, so called him over. It transpired that we were in a military secure area and the man with the pistol was from security. We had to accompany him to an army barracks to explain ourselves, but when his boss, his boss's boss and the big, big boss understood the explanation, they apologised to us and allowed us to continue on our way.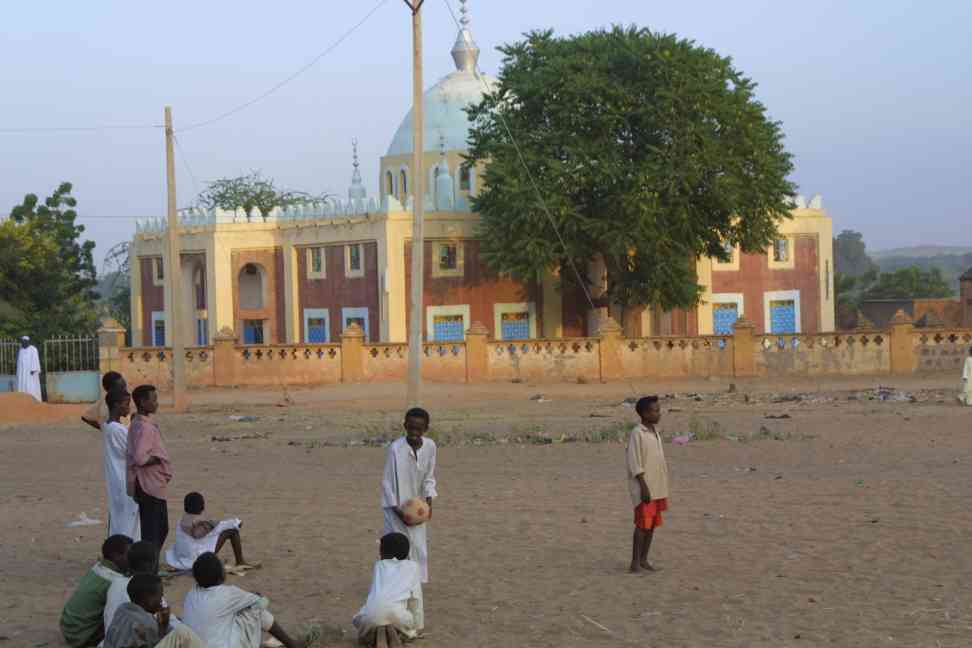 The following day, we reached El Geneina. The first half of the journey to Zalinga took three and a half hours on broken tar. We were aware of the military presence, for this was where the rebels within the Jebel Marra were reputed to be operating. Once we had found the road out of Zalinga, the second half of the journey was longer due to the poor sandy track. We stayed an extra day in El Geneina as it was Friday and we had to repair Daph's bent track rod. We heard reports of rebel activity in Chad where we intended to cross the border, but it later transpired that the problem was further south, at the CAR border. Throughout our trip across Suadn, we received a great deal of support from the various aid agencies, and we were extremely grateful for this. It gave us the opportunity to see how the smaller agencies operated in the field.
Maps and Directions
Again, both our Michelin 954 1:1 million and the 'Illustrated Road Atlas of Africa' maps were inaccurate. The 'Africa on a Shoestring' was surprisingly helpful, particularly for the map of central Khartoum. Midhat provided us with GPS information for the area north of Khartoum, and we received a copy of Quo Vardis, a software programme which interfaces with our Garmin, and which is accurate although the maps in the data base are Russian. Most of the signs, where these existed, were in Arabic, so of course were not helpful for us. However, whenever we asked people for directions we received some sort of help.
Impressions
Sudan was our first Arabic country, and we had heard reports of the friendliness of people here. This was our impression also. People were genuinely warm and welcoming, and very willing to help when they could, despite the language barrier. We learnt a little Arabic, so that we could offer the correct greeting and ask for help. Also we never felt threatened, even in crowded areas. Catherine travelled on public transport frequently on her own, and never experienced any animosity, just a gentle type of curiosity. People stared at us wherever we went, but only out of interest, as although there were supposed to be many expatriates working in Khartoum, we actually saw very few. The standard of driving was poor, but there was no road rage or aggressive behaviour. Daph was hit twice during our time in Khartoum, both times when stationary. We were told that if we travelled in such a car we should expect to be hit!! Fortunately there was no damage to Daph on either occasion. Despite having to wait in Khartoum for 2 weeks longer than anticipated, we thoroughly enjoyed the country and the people. We have to thank Midhat for his help and support throughout our stay. He provided a real insight to the poeple and the culture, particularly the Nubian culture. Whilst we were there it was reported that the peace agreement had been signed. We hope that this provides lasting peace and prosperity for the country. Now that there is oil, the infrastructure is improving rapidly, though it would be a shame if capitalist greed were to spoil Sudan.
Top of the Page