Ethiopia
Area
1,221,900 sq km
Population
61,841 thousand
Capital
Addis Ababa
Languages
Amharic
Religion
Ethiopian Orthodox Christian 40%, Muslim 40%
Currency
Ethiopian Birr

Introduction
Ethiopia is a unique country within Africa. It is probably the only one not to have been colonised (despite the Italian's 5 year attempt) throughout its history, yet developed a modern civilisation in isolation 2000 years or more ago. The Axumite civilisation (around 4-6 centuries AD) developed a language and commercial farming (through the use of the plough and terracing), and a hierarchical socialstructure that would be recognised today. They maintain their own Julian calendar, with New Year occurring on 11 September and Christmas on 7 January. The flora and fauna of the country is equally unique, principally due to the geographical isolation brought about by the high plateau on which the country predominantly sits. The headwaters for the Blue Nile rise within the Ethiopian highlands. Ethiopia has around 40% of Africa land that lies above 2000 metres and around 85% of land above 3000 metres. Much of the plateau is well watered, fertile and cultivated. There is however a very large population, which even on a good year, the country struggles to feed - as addressed by Bob Geldoff and his Band Aid campaign. Much of the northern area is Christian and is home to many orthodox churches, hewn from solid rock (as at Lalibella) and are rumoured to contain religious artefacts (like the fabled 'Ark of the Covenant' at Axum).
Border Crossing
We crossed the border between Kenya and Ethiopia at Moyale. As we had not come from Marsabit that night, we arrived at the Kenyan side earlier than normal (the military escort arrives later) and the person in charge of immigration was not there. There was a room full of people waiting, who told us he would be back soon. We decided to try to get the customs formalities done first, but it appeared that the customs man had also gone out. However, he reappeared within 10 minutes of our arrival, and stamped the carnet, apologising profusely for not being there when we arrived - apparently he had been to the post office! Eventually the immigration officer arrived and we had our passports stamped.
The Ethiopian side of the border was slightly more chaotic, in that you had to go to completely separate buildings, dodging the boys trying to change Kenyan shillings. We went to immigration first, where we were given an exit card to complete? Thinking that this may have been all there was, and it was being used as an entry form, we completed it and then had to visit Room 4 for our passports to be stamped. We did not notice at the time, but the officer gave our passports back with an exit stamp (despite the fact that we quite clearly had no entry stamp).
We then went to customs, on the opposite side of the road and spent half an hour with an officer while a clerk meticulously copied out all the details of our carnet on to another form. They did not stamp the carnet (Ethiopia does not recognise it), but gave us copies of the form they completed. We had to pay one US dollar for the privilege. We also had to make a currency declaration and were told to keep all receipts from currency change transactions to show when we left the country. We had a little argument about our copy of the carnet, stamped by the Ethiopian Embassy in Nairobi. The officer wanted the original copy, yet we had been told very firmly in Nairobi not to give this up to anyone. Fortunately, it was lunchtime, and everyone was trying to get out of the building as quickly as possible, so he settled for a copy, and we went on our way, or so we thought.
Just as we were exiting the town of Moyale, there was a road block and the official (in civilian clothes!) demanded our passports. This was when we noticed the stamp error, for he told us we must go back to immigration. This was a pain, especially as we it appeared the country stops for lunch! Luckily we caught a different immigration officer before his lunch departure and once the problem was explained, stamps were provided, enabling us to proceed. The road outside Moyale was tar (which runs all the way to Addis) and the potholes were not too bad. The countryside was more flat low African scrub, which around Moyale was covered with litter - not a very appealing invitation to the country.
Addis Ababa
It is around a 10-11 hour journey to Addis (total distance of 770km), but as we left Moyale around 1300 hrs, we broke our journey at a small town (Fiseha Genet) and stayed in a hotel on the main road, stopping around 1800hrs. The rooms were cleanish, we had hot water and the food was reasonable. One of the first things we noticed about Ethiopia was the number of animals wandering about. There were goats, sheep, cattle, horses, donkeys and dogs, most of which spent a considerable amount of time either crossing the road or standing in the middle of it. Thus our journey was punctuated not only by slowing down for people, who also seemed to have these habits, but avoiding animals.
Combined with the hilly terrain that started after Yavello NP, we did not make as much progress as we would have liked. Still, the road improved massively 400km south of Addis (although the standard of driving deteriorated) and we reached the capital just after lunch, making straight for the British Embassy. Our contact at the Embassy (Vanessa), worked in the visa section and we were able to start the process of obtaining our Sudanese visas, for we heard that this would take 72 hours.
Vanessa was the soul of efficiency, and ensured that we had a letter of introduction for the Sudanese Embassy that afternoon. She had also done some research into our onward destinations, and had come up with several up-country hotels for us (camping is not so common in Ethiopia and hotel accommodation is relatively cheap) and we secured some bookings for the northern cultural tour. Addis Ababa was no different from many of the towns we had already driven through, in that there were people walking in the road everywhere, plus the animal problem does not improve. We saw cattle grazing on the grassy middle section of a dual carriageway, and there was a huge number of dogs and cats. Vanessa arranged a room at the Hotel Axum, and after unpacking, we went for a walk towards town. It is common for travellers to camp at the Bel Air Hotel grounds (a bit of a dust bowl), but we wanted to have the vehicle serviced, which makes camping a problem with the roof tent!
The next morning we took the hotel transport to the Sudanese Embassy, presented our letter, 2 photos each, a copy of the carnet, our passports and the proposed route through Sudan. We had to pay $61 each, and were told to come back the following day after 2.00pm. We were quite surprised and did not expect the visas to be ready, but in fact they were - quite a coup! However, due to the approaching weekend and our inability to find the Chad Embassy in time, we will get visas for Chad in Khartoum.
It had to Happen Sometime!
After dropping off our passports at the Sudanese Embassy, we strolled up the main street in Addis and around some back streets. Addis is famous for its strong (yet flavourful) coffee and pastries - a legacy from the Italian period, with cafes on most street corners. The city is at quite an altitude and hilly, thus we decided to cut through to the Hilton Hotel and get a taxi back to our hotel. The Hilton is on a wide boulevard and near the Presidents Palace. Addis is a safe place to walk, providing one is careful, even after dark, and apart from the usual beggars, the general populace are very friendly.
That said we were victims of a pick-pocket scam. As we strolled down the boulevard, we both had a 6th sense, but sadly not quick enough to take preventative action -events occurred very suddenly. We were following a Rastafarian (a common following within East Africa) down the street, who was surrounded by some boisterous youths. Just then, a lad appearing to sell a newspaper came up from behind Adrian, who waved him away. As he took his eye off him, he felt his arm being knocked away and two boys from in front turned around. Adrian felt a hand go inside his inside pocket and pass something to the lads in front in one smooth movement, so he instantly sank to his knees and spun his legs in a circle to trip his assailants (sadly to no effect as he was already off-balance), but it obviously disrupted them as they ran off - dropping Adrian's watch in the process, which he grabbed. The watch had been in his pocket with his small note local currency. Adrian was up on his feet, but did not give chase - thankfully Catherine was left unharmed. The equivalent of £8 had been taken, but it was bloody annoying.
This cannot be too common an occurrence, for the Rastafarian ran 100m to get the police from outside the Hilton and dragged them off to give chase after the assailants. He was very indignant that it had happened (for us, it was not too serious an outcome under the circumstances). No one was caught and the locals and police were very apologetic. A group of locals collected and all were very shocked. One man told us that this was a rare occurrence and asked us to please not become insecure. The irony was that we had just been walking down some side streets where we had been more vigilant, and we were perfectly safe, but then we were on a safer road the incident took place.
Through Vanessa's contacts were were able to get Daph serviced. Adrian and the mechanics spent a morning checking the lubricants and greasing propshafts and ball joints etc. The oil and filters were changed, but the rear-disc brake dust guard could not be fixed, so was left off. Significantly the front axle bushes were worn and were replaced, in preparation for the Sahara crossing.
Northern Historical Circuit
Lalibela can be reached in one hard days driving, but effectively it took us 2 days. We left by the Debre Birhan road, breaking our journey at Kembolcha, after 7 hours driving. There were roadworks, lots of herds of cattle/goats/donkeys on the road, not to mention all the people. However, the countryside is dramatic, and becomes more so the further north you travel. There are precipitous mountain roads, sheer cliffs and very green fertile valleys. Hillsides are often terraced and cultivated. In the lowlands, there are large state owned farms.
Carrying on the second day, the road splits at Weldiya, denoting the start of the new road to Werota (near Lake Tana). This is a hard gravel/maram road which crosses the high plateau that was built by NGOs in order to speed the distribution of aid. Driving along this road, we were concerned that both our maps were inaccurate (which they were!) and were on the point of turning round, when we asked advice from one of the local farmers who approached us. We were told that we should carry on to a small village and then turn right.
Taking this advice, we dropped down off the escarpment, we came across a tarred road just short of Lalibella. This road links the airport with the town (it appears common with all the sites in the north, tarred road improves the tourists impression since the vast majority wisely fly in between locations, avoiding 6-8+ hours of hard driving on rough roads). We made the mistake of stopping halfway down the escarpment for lunch, and within minutes we were surrounded by children, who were extremely persistent, so anoying that we had to move on.
Lalibela
Lalibela (a listed World Heritage site) was the capital and a religious centre for King Lalibela following the fall of Axum in the 12th century. The village consists of 12 monolithic and semi monolithic rock hewn churches containing religious treasures and artifacts from King Lalibela's reign. We arrived at the Jerusalem Guest House at approximately 3pm, and we arranged for a guide to take us around that afternoon. It is essential to agree the price of a tour in advance with a registered guide.
In order to see all the churches, you need 3-4 hours, and you must start before 4.00pm, as the churches close at 5pm. We therefore had to split our tour over 2 days, and if you have to do this it is essential to ensure that you agree the price accordingly. Most of the guides sub contract a boy to "look after your shoes" etc (you have to take these off to enter each church) and so the boy requires a tip.
On the first evening we toured the western group of half a dozen churches, and on the following morning we completed the tour. It is necessary to buy a ticket to enter the churches, this cost 200 birr. This includes all the churches and lasts for a few days. Half the churches are linked through tunnels and alleyways carved from the rock. Unfortunately, most of the free standing churches had scaffolding round them as they were being strengthened as part of an NGO protection programme.
The inside of most of the churches it is quite small, with space only for the priests and singers and a limited number of people. Where there was space for a congregation, men and women had to enter by separate doors and sit in different parts of the church. Each church has its own set of treasures and processional crosses, which the priest will get out to show you so you can take a photo, but you are expected to provide a donation in return, which becomes quite expensive by the time you have visited 13 churches!
We finished our tour with the church dedicated to St George. This, although impressive, is much smaller than the guidebooks would have you believe. During dinner, guests from the Roha (the best hotel in Lalibela) joined us in our mud hut restaurant. All the tables were round the edge, facing inwards so that guests could talk to others easily. There was an elaborate coffee making and serving ceremony after the meal.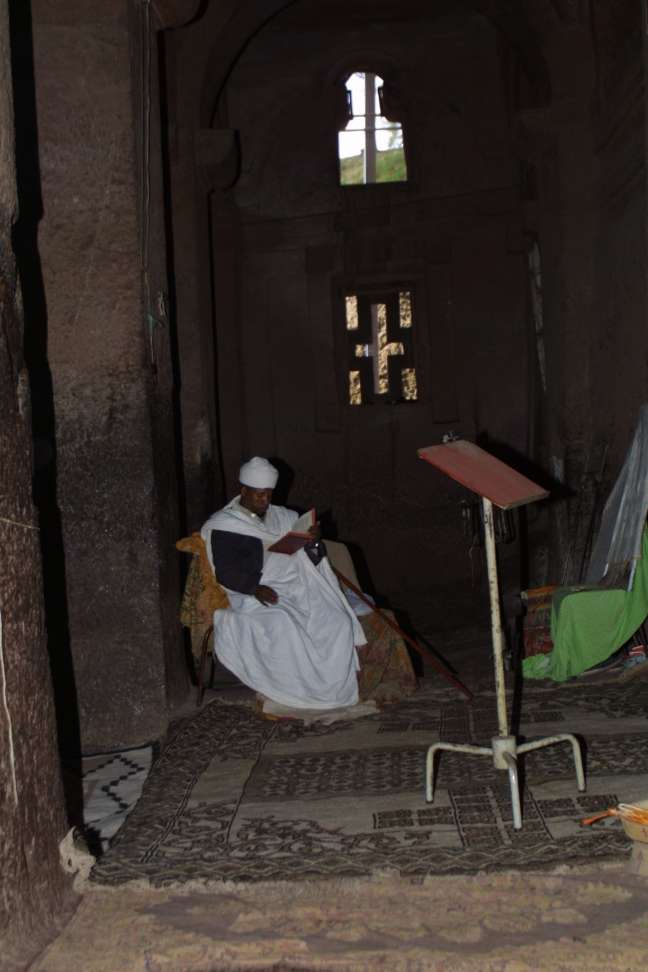 Bahar Dar
Retracing our steps to the Weldiya-Werota road, it took us over 6 hours to reach Bahar Dar. Although again the countryside is dramatic and very fertile, we were struck by the large number of aid vehicles (most of which were either broken down by the roadside or were travelling empty in the equal and opposite directions - very strange!). We were booked into the Tana Hotel, but by the time we found it, we had booked ourselves in for camping at the Ghion Hotel, as it was quite cheap and we had a grassy site. We later found out the Tana also has camping.
The next morning, we set off to visit the Tisissat Falls on the Blue Nile (sometimes called "smoke of the Nile" or "Tis Abay Falls"). The locals were maddening - trying extremely hard to persuade us that we needed to hire a guide to show us the way, but our guidebook had a map and we were confident enough not to need any guidance. From the car park, the obvious route dropped down to the 17th century stone bridge over the Blue Nile gorge, which then takes you over the hill above the falls, which are spread over half a km below. It is possible to walk all the way down to the base of the falls and swim.
Ethiopian Roads
Extra vigilence is required at all times. Statistically, Addis Ababa has the worst accident rate in Africa (but one suspects more accidents occur in the rural areas). It is difficult to know why it is so bad here, (all the usual factors apply - no driving tests or training, poor cars, lack of awareness and road rules not being enforced) but one added principal factor is the livestock constantly roaming across the road. Stories abound of western drivers being financially fleeced should they have the misfortune to hit an animal, let alone a person. Livestock appears to spend more time on the tarmac or gravel than grazing. On more than one occasion, we witnessed goats, cattle and donkeys being actively driven into the road in front of our vehicle. If this is an attempt to slow us down and foster good will to derive a tip or handout, there are some serious miscalculations going on!
Gondar
Gondar was the capital of Ethiopia during the reign of the Fasilades in the 17th century. Situated in the foothills of the Simien mountains, the town possesses many spectacular churches and castles. The Royal Enclosure covers 7.6 hectares within which there are 5 castles, interconnected by tunnels and raised walkways. We arrived in Gondar after 4.5 hours driving from Bahar Dar. It took some time to find our Hotel, the Ghion, as it was at the top of the city, reminiscent of a former crusader castle.
The view from the hotel gardens was splendid, and it was possible to see right across the city. The hotel was government run, at $50 for room only, though the food was reasonable, with a set menu for dinner and plenty of choice for breakfast. Hot water was only available between certain times, and the supply was limited. In addition, they would only take local currency and not US dollars, so we had to go to bank the next morning in order to pay.
Interestingly, when Adrian went to the bank and gave them dollars to change they maintained that some of the 5 dollar notes were worn and illegible (they were fine but it appeared they wanted to be difficult). So Adrian asked to see the manager, and pointed out that the dollar notes were actually pristine when compared to their own notes, some of which are so dirty that they are actually black, and that we were being asked to accept this money, they agreed he had a point and changed the money.
The Road to the Border
We had read many dire accounts of this stretch of road, which should take around 4 hours, taking people several days, especially in the rains. We passed at the end of September and despite some rain, the rains are 'technically over'! We are pleased to report that there is now a new road, though there are a few rough patches. During one of the unmade parts we caught up with a couple of Toyota Land Cruisers containing 7 French people, who were heading for Egypt. They were part of a consortium of people owning 2 Land Cruisers which had been used for the last 2-3 years in Africa. They had carnets issued by the French AA which covered Egypt, though they had to pay more for these than the standard carnet.
Maps and Directions
Both our Michelin 954 1:1 million and the 'Illustrated Road Atlas of Africa' maps were inaccurate. The directions and sketch maps within the Footprint Handbook 2000 for East Africa were of little help. Within Addis, there were no roadsigns or road names - people were not aware of road names! Most tar roads were in good repair, especially near Addis, but the roads up-country are harsh gravel and marram - these took a high toll on our tyres. Finding campsites was almost impossible, although we were fortunate in having local recommendations and bookings for the north.
Impressions
We arrived in Ethiopia with high expectations, which sadly were not met. It is a large country, and although the road system is 'all-weather', the distances are long and driving frustrating. This is exacerbated by the people themselves and the thousands of animals loose on the roads. Whilst some locals are genuine and very helpful, others are rude and there was a distinct culture of western expectation, hand-outs and attempts to rip off tourists. The children appear to be totally outside parental control - our vehicle was stoned several times by groups of children. Every time we stopped (no matter how rural), the car was immediately surrounded by hordes of children all trying to put their hands inside the car, shouting "You, You, You, give me money". They were almost impossible to get rid of. Stopping to have lunch became a thing of the past, and even toilet stops were fraught. We became very weary of these peolple. Whether their attitude was a feature of the aid culture we are not qualified to comment.
Whilst Ethiopia struggles to feed its population (even in a good year), we witnessed large-scale farming potential that is currently managed by feudal techniques - surely this is where 'aid' should be targetted - developing techniques! The country is high, fertile and watered, thus should produce sufficientfood for the inhabitants. Also there were flies everywhere (it is the first time we have been bothered by insects on our trip!). Few of the huts appeared to have toilet facilities - unlike all of the other African countries we visited, and we witnessed many defacating by the sides of the roads. Most people were constantly covered by flies, even at the high altitudes as in Addis. For such an advanced culture and system in its day, Ethiopia appears to be dated. The countryside looks like the English views of the Anglo Saxon period and despite the inordinate amount of aid that is all apparent in the country, it appears to be firmly rooted in the past. This is a great shame.
Top of the Page