Botswana
Area
570,000 sq km
Population
1.822 thousand
Capital
Gaborone
Languages
Setswana, English
Religion
Animist 67%, Christian 30%
Currency
Pula

Trip to Botswana Christmas 2001
The first part of this page provides some information from the trip at Christmas 2001. We travelled through the Central Kalahari, entering from the bottom and emerging at the top. It was an important journey for us, as there was no fuel or water, so we had to take all our supplies with us. We had 3 jerry cans for diesel, all or which we needed to ensure were filled before we entered the game reserve. In the event, we did not have a problem with fuel, though we had to ration our water. The picture above shows a bore hole with a diesel engine. Despite several attempts, we were unable to get the engine started (so no showers that night).
Main Trip: Crossing the Border into Botswana
On 18 June, we crossed the border from Namibia to Botswana at Mohembo, as we were intending to visit the Tsodilo Hills. We were also unsure of the status of the Caprivi Strip - ie whether a military escort was still required. We subsequently met a couple at Audi Camp in Maun who had recently travelled that way, and they confirmed that as of 2 weeks ago (approx beginning of June 2002) military escort was no longer needed. Apart from the Botswana customs not wishing to stamp the carnet, as S Africa, Botswana and Namibia are all part of the same customs area, we experienced no difficulty.
After some dialogue, we managed to persuade the customs officer that since the carnet had unfortunately been stamped by the Namibian customs, the best thing to do would be to stamp the document anyway, and in the end he agreed to do so. We had some pula left over from the trip the previous Christmas, and we paid our 10 pula road tax with this. We planned to change some dollars to pula in Maun, when we knew roughly how much we would need for park fees etc. When we returned to Daph after using the toilet, one of the officers came out to ask us whether we had petrol in our jerry cans. We said that we had an extended tank, so we only needed to carry petrol cans when travelling through remote areas. He let it go at that. Actually we did have 2 cans filled with diesel, since it is cheaper in Namibia than Botswana. We decided in future to leave border posts as soon as possible after our documents had been stamped.
Tsodilo Hills
Our first stop in Botswana was Tsodilo Hills. The guide books showed 3 routes from the main road, all of which were problematic due to heavy sand. We chose the middle one as it was suggested that this was the best. There was some sort of road construction taking place at the beginning of the route - it was difficult to say exactly what, but we had to drive in some fairly deep sandy tracks at the side of the road to get through. After about 200m of this, the works finished, and we were on the actual track. The sand became deeper and Daph started rocking backwards and forwards and from side to side because of the underlying surface.
It was a fine line between keeping the vehicle's momentum going and going sufficiently slowly and gently to minimise the rocking, which every so often lifted the kit in the back of Daph off the floor! There were 2 tracks, and from time to time we crossed from one to the other, thinking that it looked easier. Though one was generally deeper sand, the other seemed to engender more of the rocking motion. The sand was certainly the deepest we had encountered, and we were told later that it was one of the hardest routes in Botswana! We were concerned not to stop, in case Daph stuck, and Adrian became adept at changing from high to low ratio in double quick time.
We had our first glimpse of the male hill (They are named male, female and child hill - there is a fourth hill but this is not named) about half way along the track, though it was difficult to look properly due to the motion of the vehicle, and we were not able to stop to take a photo. Eventually, when we were beginning to despair of ever reaching the end of the track, we came over a ridge (it was actually a former sand dune, now held together by vegetation) and got a clear view of the bare rock of the male hill. We were using the GPS to ensure we were heading in the right direction, and we only had a few of the 39 km to go. GPS was also helpful as it gave a running estimation of the time needed to reach each waypoint. It took us over 2 hours to complete this part of our journey.
After passing through a small Bantu village, we reached the visitor centre, which was surprisingly modern, and had been opened in 2001 by the President of Botswana. The hills were titled the mountains of the gods on the gates of the centre. We read the displays, which were very informative, and then decided to walk the Rhino Trail, as we were told that it did not involve too much climbing (Catherine's arm was still sore, and she was unable to take much weight on it). This trail led up the female hill, which contained most of the rock art we had come to see.
It was good to get out of Daph and walk, though the first part was more of a scramble up the rocks. Near the top we saw a medium sized greyish green snake, which we were unable to identify. Fortunately it let us go by unharmed. We found the trail a little confusing- most of the sights were marked by posts with numbers on, though the actual trail itself was not well marked, so we had many false trails. We had some difficulty finding Laurens van der Post's panel, which depicted giraffe among other animals. It took us 2 hours in total, and after returning to Daph we drove straight to our site in the woodland surrounding the mountains. There were no facilities, but we brought with us all we needed.
There was a rough fireplace left by previous occupants, and someone had dragged the trunk of a fairly large tree to the edge of this. We managed, eventually, to get the stump burning, and as there was a good deal of wind and it was slow burning wood, it burned through the night. We were just getting off to sleep, when we heard some hooves and puffing noises close to the tent. Assuming the animal was a kudu (we had seen one of these magnificent animals just was we reached the site) we settled down again.
A while later, there was more noise. This time it sounded as if a herd of animals was surrounding Daph - they were puffing and blowing and actually brushing against her - we could feel her moving below us. Adrian undid the door of the roof tent and there was more noise as they moved off. He caught one animal actually standing over our fire - and on inspection it turned out to be a cow!! Rather a disappointment really, though Adrian had pointed out earlier when we heard them arriving that kudus are not herd animals. Presumably these cows were used to humans and so were not afraid of the vehicle. We had earlier spilt some diesel as we re-filled Daph from one of the jerry cans, and wild animals do not like the smell of diesel. We tried to sleep again, but the wind got up and there was something flapping on the side of the tent, which made sleep difficult. In the end we were pleased when the alarm went off at 6.00.
The next morning we packed up and set off. The custodian of the visitor centre had recommended that we return via the southern of the 3 routes, as he said it was less sandy. So we set the GPS and off we went. He was correct, generally the route was less sandy, as it alternated between heavy sand and firmer ground, but it was longer (45km) and somewhat hazardous in that there were alot of tight bends - which tested Adrian's skills with the gears at the same time as steering and trying to minimise the Daph's rocking. We met 3 other vehicles, all of which gave way to us. There were several straight strips, where the ground was firmer, and we were able to stop on one of these sections to photograph the hills with Daph in the foreground. Again, this route took us over 2 hours, and we were glad to be back on the tar road, heading for Maun.
Audi Camp, Maun
We camped at Audi Camp for the next 2 nights, as we needed an admin day by now, having had only one night stands since we left Cape Town. We arrived in the early afternoon, and put the Oz tent up so that when we took the vehicle our camping area would be marked. That is one of the problems of a roof tent - it is a bit like a camper van in that if you want to travel anywhere it has to go with you. There were signs up at the camp site advising people not to leave anything out. We heard that equipment had been taken the previous night, so we locked everything in Daph that evening before going to bed.
At the campsite we met a retired couple, Austin and Una, in a very interesting vehicle. They had adapted a five ton Iveco army trials ambulance into an extremely comfortable and secure vehicle, having lockers in the side for equipment, and minimal windows. They had been travelling for 3 years, having shipped their vehicle from the UK to Mombassa, and told us the heart rending story of how their vehicle was broken into whilst on the quayside at Mombassa. Everything was taken. Whilst many people would have given up at this point, they refitted the vehicle and carried on with their journey. They were very well prepared and carried enough in the vehicle to go into the bush for up to a month at a time. They were very friendly, helpful, and knowledgeable. We were extremely grateful for their travel tips as they had recently been in many of the countries we planned to visit.
The next morning was overcast - a good travelling day- though of course we had admin to do! After taking advice from the owners of Audi Camp, who were extremely helpful, we went into Maun to find Lesedi Motors, the Land Rover garage. Daph had been leaking transmission oil for the last few days, and we wanted to fix the problem before we continued to Zambia. The Land Rover garage took a look immediately, and allowed Adrian to help. In the meantime they kindly made space for Catherine to sit in the office and work on updates for the web page. Whilst in Maun we were able to change money, buy supplies and update the website at an internet cafe.
Moremi
Moremi Game Reserve, within the Okavango Delta, is probably the prime tourist destination within Botswana. Approximately 60% of the water within the delta flows past the northern flank of Moremi Island into a network of lagoons forming the reserve, the only protected wildlife area in the region. Around 80% of the dry areas were populated with mopane vegetation, but this has declined due to elephant damage. In line with Botswana's tourist policy of high cost, low impact tourism, the reserve contains few campsites and less than half a dozen quality lodges.
We found we were unable to book camping or any other type of accommodation within the reserve through the Department of National Parks at Maun, as we were told all sites were full. Once we arrived in the reserve though, it became clear that there was in fact plenty of space! So we ended up camping at a very pleasant site approximately 28km away from the South Park Gate, near a traditional Okavango village which is open to the public.
In fact, at the Third Bridge campsite, within the reserve, we only saw one vehicle. We enjoyed a wonderful drive through monopane trees watching numerous wildlife, but sadly we saw no predators, though we found evidence of their activities. At the park entrance we were given a questionnaire requesting us to document any sightings of either cheetah or wild dog. Our intent was to do a circuit from South Gate to Third Bridge and exit via North Gate, but recent flooding had destroyed the road between Xakanaxa and the Hippo Pools. This meant we had to enter and exit by the same gate.
Xakanaxa Lodge
In 1998 we stayed at Xakanaxa Camp, run very efficiently by Bob and Flo. On leaving Pretoria mutual friends, Hazel and Mike, asked us to pass on their regards, so we called in. Bob and Flo were pleased to see us, and explained that there had been a fire a couple of years previously, and the reception buildings, together with all the records, were lost, so there had been some changes.
The baby crocodile (Doc the Croc) had grown up and left, though still visited sometimes, and there was now a "Doc 2". The bird table had gone, since feeding the birds, or any wildlife, was disallowed by the park authorities. We remembered the camp being alive with many colourful birds - excellent for photography.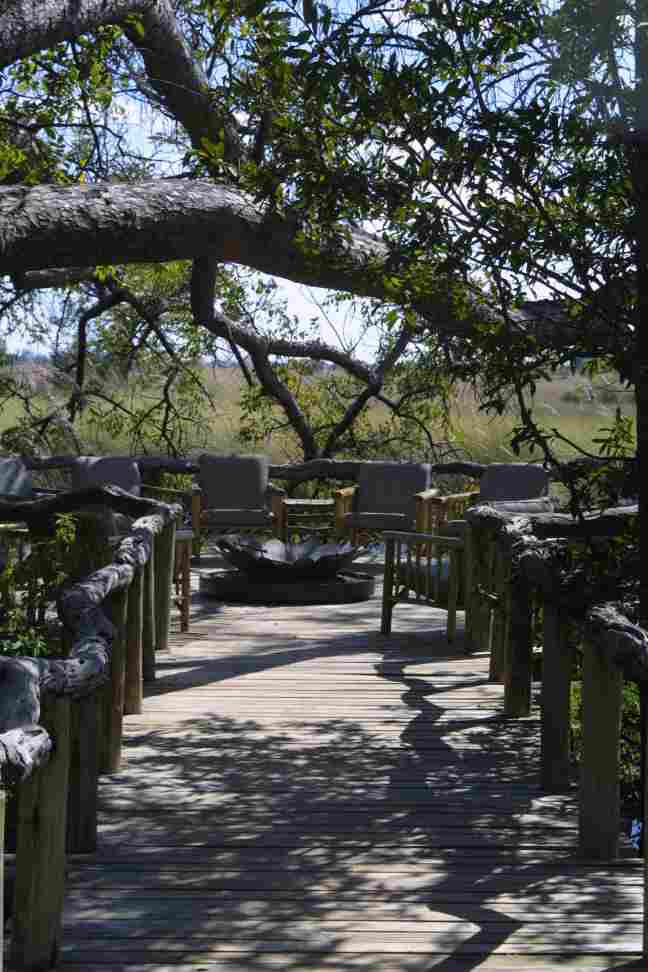 Bob anf Flo gave us some excellent onward travel tips. They suggested that we stay at Mankwe Camp that night. When we explained we had been to Lesedi Motors the previous day, it turned out that Dean, Bob and Flo's son, was the guy working there who had shown an interest in the website- it's a small world!
Oil Leak
We were heading out of Moremi Game reserve, bound for Mankwe Camp, when we noticed that oil was dripping from the engine bay. On examination, it became clear that the problem was the opposite of that encountered in Lesotho with Daph I. The oil coolant pipes had vibrated loose at the union with the radiator. To fix, removal of the engine fan and housing. It was 4pm, and we had 2 options - we could either return to Maun and Lesedi Motors, or go on to Mankwe Camp and hope that we would be able to fix the problem there. We decided on the former course of action, and so returned to Audi Camp, much to the surprise of Austin and Una. We went to Lesedi Motors the next morning, and they repaired Daph and also did some welding we requested. Dean was surprised to see us again.
Mankwe Lodge
Due to the oil leak, we were unable to reach Savute that day, but instead we took up Bob's suggestion to stop at Mankwe Lodge, in the game management area adjoining Moremi and Savute. The road to Mankwe was extremely sandy, and for a long time we saw no signs of civilisation at all, so were unsure whether we were on the right track. We finally reached the camp at 1800hrs, just as the sun was going down. Unfortunately they had no spaces for us to camp, as all were full. However, Dempsey, the head guide, was able to arrange for us to share one of the sites, and drove with us as by this time it was dark.
The next morning we drove up to the Kwai River. On the banks there we met a South African couple, also from Pretoria, with a new TD5 130 Land Rover - it is always comforting to do a river crossing with others. That said, the River Kwai was not a problem. We entered Savute through the Mababe Gate.
Savute
The lower half of the Chobe National Park is a harsh desolate area named Savute. The Savute channel used to flow north until 1979, but by 1982, it had completely dried up. This geological event caused by the fault lines running between Chobe and Linyanti was captured by Derek and Beverly Joubert in their film "the Stolen River". Savute is a truly wild area consisting of the Mangwikhewe sand ridge, the Mababe depression and the Savute marsh. In the wet season, it is extremely difficult to transit this region, although the marsh area is generally teeming with wildlife, with game producing young and the ever present predators. In the dry season game viewing is easier due to the shorter grass and deep sandy tracks.
We decided to spoil ourselves and booked in to the Savute Lodge, a luxurious camp, previously known as Lloyds Camp, which used to offer elephant back safaris. The Lodge overlooked a man made waterhole which attracted a continuous stream of elephants. Desert and Delta run Savute Lodge, for more information see their website, at www.desertanddelta.com.
We went for a very enjoyable evening game drive, during which we saw elephant, lion and spent some time watching a female leopard catch a guinea fowl. Sadly failing light meant that we were unable to record the incident on film.
The couple running Savute Lodge (Tanya and Johann) were very kind to us, and even prepared a packed lunch for our onward journey.
Whilst signing out at Savute Parks office, we bumped into Peggy and Richard who were driving an '82 petrol 3.5 ltr Range Rover, having driven our intended route in reverse! They provided some very helpful information regarding our intended journey but whether they encountered few problems as a result of their vehicle having Saudi plates is unknown! They had just finished 12 years working in Saudi and were very well prepared and experienced off-roaders.
Chobe
The track to Ghoca hills (the North Gate to Savute) was not too bad, though we did not see too many animals. In the game management area between Savute and Chobe, the first 30 km to Ngoma Bridge were bad soft sand, but not the worst we had encountered by far. The last stretch was graded gravel road, with brand new tar at the border crossing with Caprivi and the park entrance. We noted that both the tar road and the building at the entrance to the park had been provided via a grant from the European Union. As we had a permit we turned into Chobe Park. There were stunning views across into the Caprivi and Linyanti.
The northern boundary of Chobe National Park runs along the Chobe river, Botswana's northern border with 4 countries (Angola, Namibia, Zambia, Zimbabwe). The park covers an area of approximately 12,000km and is noted for a high concentration of elephant. We first visited the park in 1997 when we stayed at Chobe Game Lodge, the only lodge within the park boundary. Since then, we have noticed two significant changes. The first is the devastation the elephants have caused to the woodland vegetation, and the second is the increase in low value high impact tourism. Both of these are contentious and serious issues with regard to conservation.
Although there are large herds of buffalo in the park, we did not see any, nor did we see puku, as we had during our previous visit. However, we did see red lechwe, and two collared lionesses. We were told that collars were necessary in order to monitor the population because of outbreaks of feline distemper. We exited the park at Kasane, Botswana's northern border town. Here again we found tarred roads, courtesy of the European Union, supporting the increase in tourism.
That night, we stayed at The Garden Lodge, Kasane, run by Phil and Gabi. We were made very welcome, and given sound travel advice for our onward journey. They provided an excellent evening meal for us at short notice and a comprehensive breakfast. Prior to crossing the border via the Kazangulu ferry, we re-fuelled and filled all four jerry cans, as diesel is more expensive in Zambia (about four times the cost).
Top of the Page